About Our Swim Team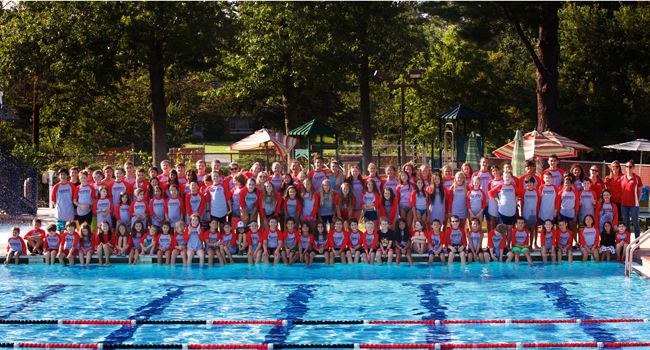 Join the Regency Estates Swim Team for a summer filled with competitive swimming, team spirit, friendships and fun!
Our Swim Team has a rich tradition of competitive swimming in a positive and encouraging environment. Our focus is on swimmer development and sportsmanship. Our culture is one of encouragement, learning, enthusiasm and team spirit. The Swim Team offers a unique competitive, athletic, learning and social experience for all of our swimmers.

We offer programs for swimmers of all skill levels.
In 2019, our Swim Team members (generally ages 7-18) will represent RESC in Division E of the Montgomery County Swim League and swim in developmental meets with other community pools. Under the direction of our coaching staff, the team offers daily practices starting the day after Memorial Day. Wednesday evenings are dedicated to "B" meets for swimmers of all ages and abilities, and Saturday mornings our top swimmers in each age group compete in "A" meets. Our pep rallies for the Swim and Dive Team are on Friday evenings, with the teams coming together for dinner and team spirit.
| | | |
| --- | --- | --- |
| Young and novice swimmers who are not quite ready for the rigor of swim meets and practices are still part of the team! Our Pre-Team provides the most junior Sailfish (ages 4-8) with hands-on instruction from our junior coaches in a group setting, with four practices a week available once school lets out (and two Sunday practices in early June). These swimmers join the ranks of the Swim Team as they develop the needed skills. | | |
In addition to our Friday pep rallies, the team organizes several social events in the season and sponsors a team banquet at season's end.
For more information about the teams, see our 2019 Swim Team Manual.